8 Diffuser blends you've got to try!
8 diffuser blends you've got to try: We have one for every room!
So many rooms, so little time! If we had our way, we'd have an essential oil diffuser in every room of the house—and in the garden too! Whether you're living that dream or you move your diffuser from room to room every hour, we have eight diffuser blends for you to try. Discover a blend for every room in the house!
Where should I put my diffuser?
Before we dive in, let's go over some tips to help you spread the joy of essential oils throughout the whole room. Follow these steps to maximize your diffusing experience:
Choose an essential oil diffuser that goes well with your decor and comes with the features you want—such as a long run time, multiple mist settings, or color-changing lights.
Keep your diffuser in a room where you spend most of your time. For many people, this is their kitchen, living room, or bedroom.
Place the diffuser on a solid surface below eye level—kitchen tables, nightstands, and coffee tables work great.
Put the diffuser as close to the center of the room as possible so the scent can spread unhindered. If you don't have an outlet in the dead centre of your room (who does?) try to keep the diffuser away from the wall.
Having trouble choosing a diffuser? There are so many to choose from! Check out www.myyl.com/katebunney ti explore the many possibilities. Then stroll through the essential oil blends designed to enhance every room, from the entryway to the patio.
Entryway diffuser blend
Whether you're welcoming old friends inside or opening the door for the delivery man, the entryway to your home is your first greeting. Extend a warm welcome with this sweet and bright combination of Bergamot and Lime mixed with woodsy Juniper. Your guests will sense your hospitality from the moment they step in.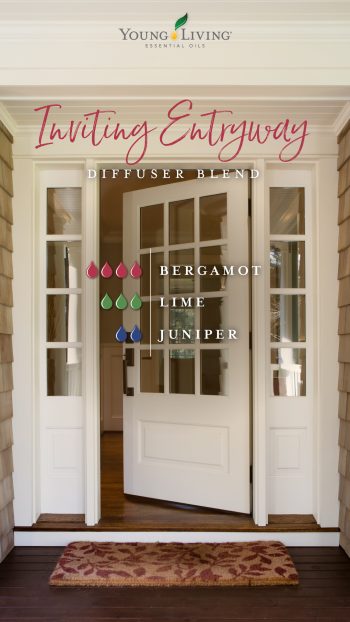 Living area diffuser blend
The living room is a place for chatting, relaxing, and enjoying the company of friends and family. But on busy days, it can feel more like a madhouse. Fortunately, there is a way to restore order to the chaos. Create a cozy atmosphere in your living space with this blend of bright Orange, spicy Thieves®, and woodsy Copaiba freshened up with a hint of Peppermint.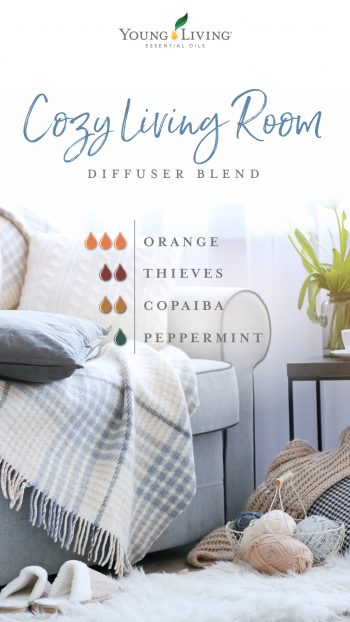 Kitchen diffuser blend
The kitchen is another space that's always bustling with activity. From sunup to sundown, this room is a hub for hasty breakfasts, lunchtime assemblies, and dinner preparations. Sometimes you might feel like your kitchen is stuck in an endless cycle of dirty dishes and sticky messes—don't worry, we won't judge! Simply diffuse this clean blend of Rosemary, Lemon, and Joy™ so your kitchen always smells spotless even if you still have a few dishes left in the sink.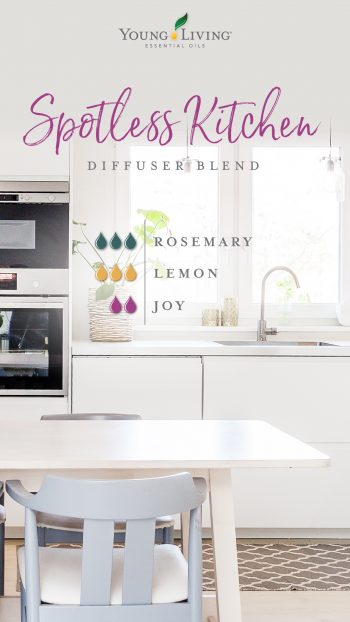 Bathroom diffuser blend
We all know what goes on in the bathroom, but that doesn't mean we want to broadcast it. Air fresheners can help mask the evidence; however, they also pollute your indoor air with harsh chemicals and toxins. Instead, banish bathroom odors with this clean-smelling blend of Purification®, Kunzea*, Spearmint, and Tea Tree. (*Kunzea has a clean, spicy, and woodsy aroma. It has comparable properties and uses to Tea Tree oil but offers a more pleasant aroma and milder feel when applied topically) Now you can take care of business without letting the whole household know.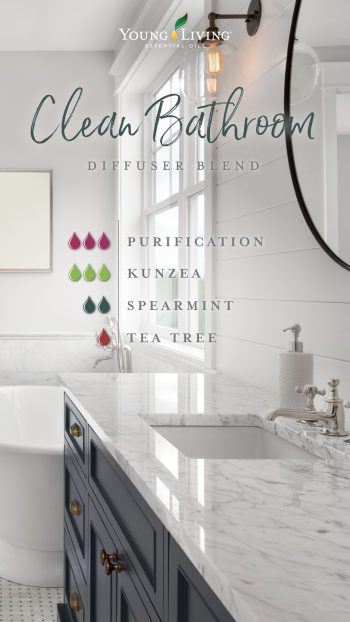 Diffuser blends are about more than eliminating foul odors. When you want to create a peaceful environment in your bedroom, diffusing oils can help with that too. Before you dim the lights and climb into bed, try this recipe as you wind down for a restful night's sleep. The calming aroma of Roman Chamomile and Ylang Ylang helps you unwind, while the uplifting scent of Vetiver and Eucalyptus Globulus makes it easier to disperse negative thoughts. All that's left to do is drift off to dreamland!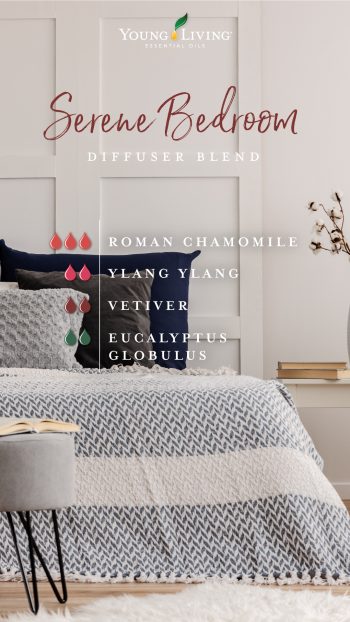 Kids room diffuser blend
In addition to placing a diffuser in your room, consider one for your child's room as well. Tots and teens alike can benefit from this bright aroma. The scent of KidScents® GeneYus™ creates the perfect atmosphere for focused and effective study sessions, while the smell of Grapefruit and Frankincense boosts joy and connectedness for more harmonious playtime.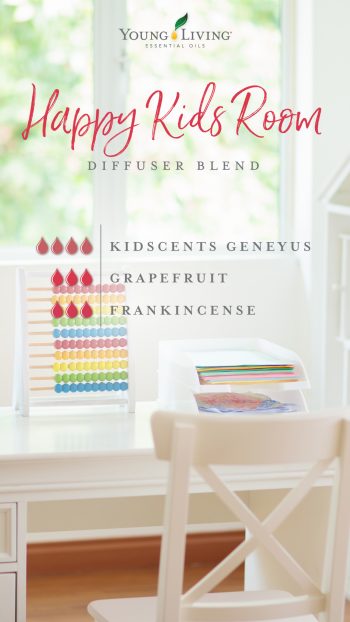 Guest room diffuser blend
Extend the benefits of essential oils to your guest rooms as well. Diffuse this fresh, floral blend for a warm and welcoming space where your visiting loved ones can feel at home. With the aroma of soothing Lavender, grounding Cypress, cheering Sage, and warm Cedarwood, this blend is so inviting your guests will be sure to come again!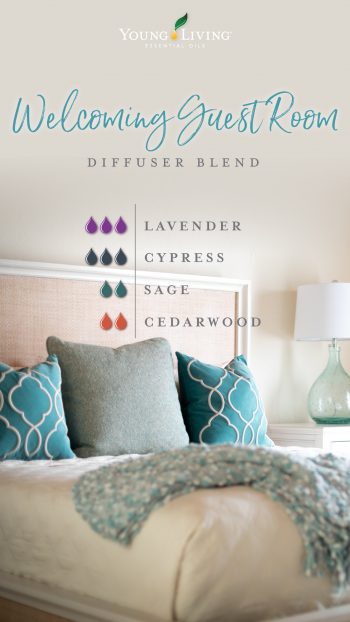 Deck or patio diffuser blend
Your outdoor spaces are as important as the indoor ones when creating a homey atmosphere. Want to make your patio the perfect place to curl up and read a good book or gather with friends for a  BBQ? Promote a comfortable, inviting ambience by diffusing Lemongrass, Citronella, Peppermint, and Thyme. This sweet and earthy essential oil blend is as delightful and refreshing as a cold glass of lemonade on a hot summer evening.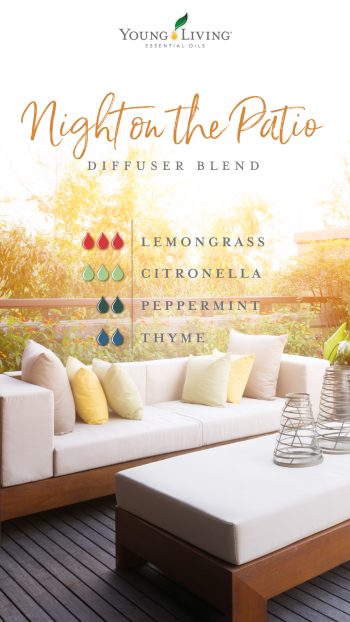 Want to find out more? Contact Kate for more information and recipes galore! kate@wellbeingliving.co.uk